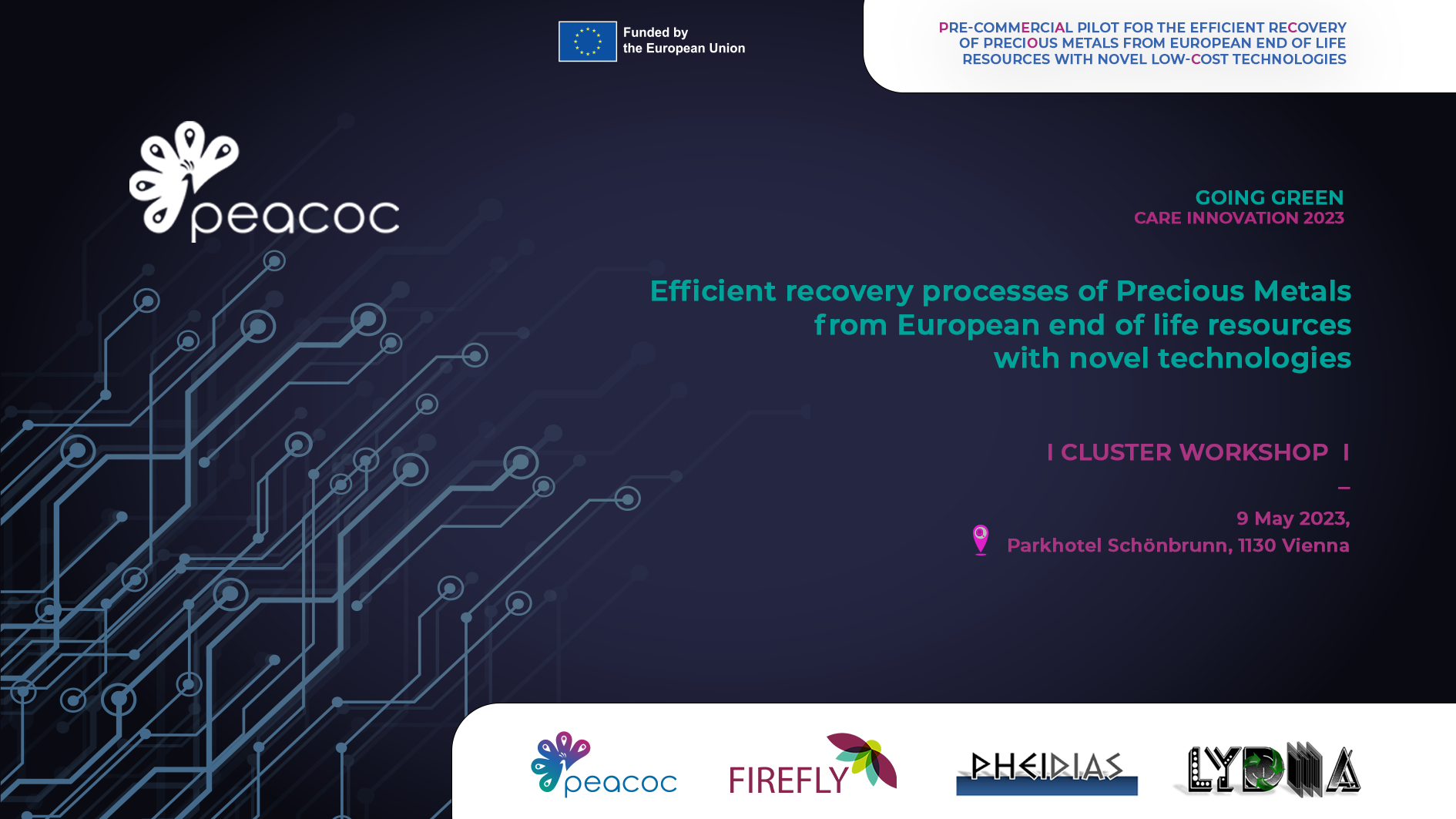 30/05/2023
Sustainable Pathways for Precious Metals Recovery: Key discussions from the PEACOC Cluster Event
On 9 May 2023, the FIREFLY project participated in the PEACOC cluster workshop titled "Efficient recovery processes of Precious Metals from European end-of-life resources with novel technologies" and held as part of the GOING GREEN CARE INNOVATION conference. Apart the organising project – PEACOC, the event featured two other EU-funded projects, namely PHEIDIAS and LYDIA, all working on the recovery of precious metals (PMs) from end-of-life (EoL) products.
The motivation behind the launch of these projects stems from the limitations of current technologies used in PMs recycling. These limitations include high investment costs, significant energy consumption, a high environmental footprint resulting from either the burning of materials with pyrometallurgy or the use of strong acidic solutions with hydrometallurgy processes, and negative impacts on both human health and the environment. Therefore, the European research community aims to develop and scale up more sustainable solutions to address the urgent need for securing a PMs supply for European industries.
With a clear aim to address the limitations of current recycling technologies for PMs, the workshop delivered an in-depth overview of the most promising technologies developed by the European researchers. These technological advancements have potential to efficiently and sustainably recover PMs at high rates.
After presenting the progress achieved by the innovative technologies developed within the PEACOC project framework, Savitha Thayumanasundaram, researcher at VITO, gave a brief introduction of the recently launched FIREFLY project, listing the motivation lying behind this research initiative, but also the concept and the specific objectives.
Backed by a consortium group counting eight research centres, six SMEs, and two large enterprises, the project sets out to build upon the existing momentum of power-to-chemicals and pioneer a power-to-catalysts trajectory, with the vision of making catalyst recycling electrochemical. This includes an experimental, modelling, optimisation and engineering approach, as well as the efficient integration of renewable electricity. The project will boost its competitiveness by implementing artificial intelligence tools for predicting best-processing routes. As the project coordinator, Xochitl Dominguez Benetton emphasised in the project's first press release, "The FIREFLY project is a landmark example of integrated research efforts in sustainable chemistry, sustainable materials and sustainable energy, shaping a vision on technology for a better world."
Download the FIREFLY presentation